Mackay businesses at risk
of disappearing from Google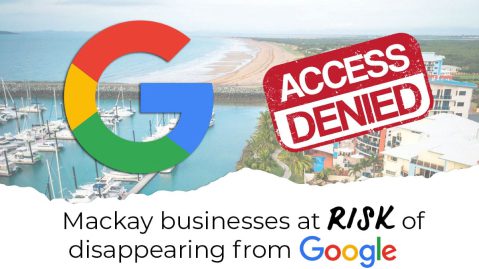 If you're a business owner in Mackay, Queensland, your online presence is crucial for reaching your local audience and attracting new customers. However, recent Google algorithm updates have left many Mackay businesses at risk of disappearing from Google's search results. In this article, we'll explore the factors contributing to this risk and offer solutions to ensure your business remains visible online.
The Changing Landscape of Local SEO
Google Reviews play a vital role in the online visibility of your business. Recent updates have affected how Google Reviews are displayed, and business owners are reporting that their Google Reviews are disappearing or not showing up as prominently as before. This phenomenon has raised concerns among local businesses in Mackay who heavily rely on Google for their online presence. Let's delve deeper into why this is happening and what you can do about it.
Understanding the Google Algorithm
Google constantly updates its algorithm to improve user experience and ensure the quality of its search results. Recent changes have focused on user-generated content, including Google Reviews. "The Google algorithm is like a constantly evolving puzzle. To stay visible, businesses need to adapt and solve this puzzle effectively." – SEO Expert
Why Your Google Reviews Matter?
Google Reviews are not just testimonials; they serve as a powerful trust signal to potential customers. Positive reviews can boost your online reputation, while a lack of reviews or negative feedback can hurt your business.
"Your Google Reviews are a reflection of your commitment to customer satisfaction and quality service." – Business Consultant In Mackay, local businesses need to take charge of their online reputation. If your Google Reviews are disappearing or not showing up as expected, it is time to investigate and address the issue.
Factors Affecting Google Reviews
Several factors can contribute to your Google Reviews disappearing or not showing up prominently:
Review Removal: Google may remove reviews that violate its guidelines or are suspected of being fake.
Filtering: Some reviews might be filtered out if they seem biased or lack detail.
Algorithm Updates: Changes in Google's algorithm can affect the prominence of your reviews in search results.
What You Can Do to Protect Your Online Presence
The Role of Local SEO in Mackay
Your online presence is more than just Google Reviews. A robust local SEO strategy can help your business stand out in the competitive Mackay market. It includes optimising your website for local search, creating high-quality content, and building a strong backlink profile. "Local SEO is the key to surviving in the digital age. It's about making your business discoverable to your local audience." – Digital Marketing Specialist
The Importance of Website Design Your website is often the first point of contact for potential customers. A well-designed website not only attracts visitors but also keeps them engaged. If your website design is outdated, it's time for a revamp.
Secure your website now from $46 / per week!
1 month free!
Strategic Media Partners is offering selected local businesses their 12th MONTH FREE when signing up to a weekly* or monthly* security backup & updates package.
Offsite backup of website
Updates of plugin modules
Updates of core themes
Latest security patches
Anti-hacking updates
Website security & update packages
"*" indicates required fields