Best Value & Quality Website Design & Development Services Mackay
Require a new website designed/developed or need updates to your existing website?
Looking for a website designer or web development company?
SMP is a professional website design Mackay-based agency that offers a range of web services including design/redesign, development/custom options & eCommerce website building. Contact us for more information.
Based in Mackay, Queensland Australia. Here at Strategic Media Partners, we make it our goal to produce the best websites for our clients. We've been designing and developing high-quality sites for over a decade to enable businesses to generate more leads no matter where they are based.
Our custom website designs combine powerful design with intelligent function. We can also provide you with an easy-to-use content management system (WordPress website) to allow you to manage content on your site without needing a technical expert. All our websites are professionally designed and thoroughly developed using only the latest web technologies. Let SMP build a website for your business!
We work closely with clients to provide affordable, customised and the best quality websites for their marketing strategy.
We're proud to offer our customers professional websites that are as beautiful as they are functional. Our websites are perfect for any business, whether you're a large corporation, a small business looking to start up a website or an individual who needs their personal site updated.
All our websites are designed and developed with the latest search engine optimisation SEO strategies and we love to keep up with the latest advances in web design.
We offer affordable website options from simple web designs and online stores (eCommerce websites) to custom website development and more complex web development/applications.
Our dedicated web development and design team also have the capability to incorporate more complex elements such as:
At Strategic Media Partners, we're the leading website design & development agency in Mackay QLD, providing a wide range of website design and development services to get you up and running or to increase traffic to your site.
Not sure where to start? In our initial consultation, we work with you and your business online plan to see how your website can scale to suit your growing enterprise. Thinking about incorporating an online web shop later? Our websites easily integrate e-commerce options without an entire website rebuild which saves you money in the long run.
Every Strategic Media Partner website is designed and developed for optimisation and website loading speed, Our web design and development team utilises advanced functionality with SEO (Search Engine Optimisation) strategies to ensure your website ranks highly on Google, Bing and other search engines. This is vital for ensuring your ideal clients and customers see your business online when they search within popular search engines.
Prefer to manage your own website? We provide easy-to-follow website training once the website design and development are completed to enable you to be self-sufficient without needing ongoing technical web support (but we're here if you need us!). Our websites are hard to break but easy to update!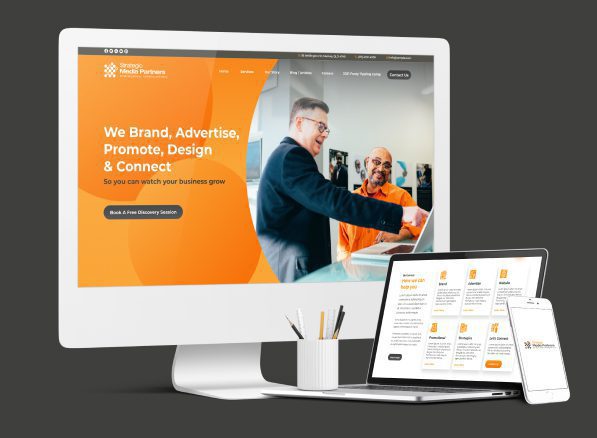 Who benefits by having a website built by SMP?
We offer a wide range of website design and development solutions for:
New business
start ups
Established businesses
looking to go to the
"next level"
Online shopping cart
systems (E-Commerce)
Complex development
and automated
management systems
Interested in launching your business online? Get in touch today to find out more.
Your business needs to look great and attract the right people to your business! Talk to SMP today, We are the best website design & development business in Mackay.
We've shared some of our most frequently asked questions to help you out!
What makes a good website?
A good website is easy to navigate for the end user, it is visually appealing and allows the visitor to find the information fast and without clicking too much, a great website is crawlable and shows search engines what they can and can't index. Good sites don't have a huge amount of errors. A good website loads super fast, from anywhere in the world and uses content delivery networks.
We may be a bit biased here at Strategic Media Partners, but WordPress has given us everything we need. It's solid, flexible and has a huge following. WordPress is pretty SEO-friendly, but with Strategic Media Partners employing the most advanced and modern SEO techniques, your website will rank high on Google indexing.
There's a lot that goes into building a good website. It's not simply buying a domain, getting some random host, installing WordPress or any other content management system (CMS) and picking a theme that looks cool. That's setting yourself up for failure. Strategic Media Partners helps you plan to get things right. SMP has a strategy for all business types — and we truly think this is the most important element of a good website.
Why do I need a website for my business?
A business's online presence, regardless of industry, can have a massive impact on its success. In this day and age, some businesses still don't realise that a majority of their customers will visit their website before making a purchase.
Having a strong online presence, particularly a website, can be a make or break for generating more revenue. Yes, the quality of your website impacts results, but the purpose of this article is to stress the importance of making sure you have a website.
Strategic Media Partners has helped numerous companies of varying sizes create their digital presence. In some cases, organisations are hesitant to get online because they feel they are not tech-savvy enough and don't understand how to manage a website. Other times, companies are concerned about the price.
The good news is that there's a solution out there that will work for you. If you still need convincing, here are the top reasons it's important for your business to have a website:
Credibility
One of the main reasons you should have a website for your business is to increase your organisation's credibility.
One way you can stand out is by having a website that looks good and clearly communicates quality information to your consumers.
Without a website, people may question your legitimacy as a business. Having a website is an opportunity to make a great first impression and give people comfort that you're a real business.
Brand
Showcasing your brand to your prospective customers is one of the most important things that you can do. By clearly establishing who you are, what you represent and what you stand for, you increase the chances of your customers buying from you.
This is also something that can set you apart from your competitors. Without a website, it can be incredibly challenging to do this because people can't easily find quality and reliable information on your business.
Leads
Perhaps one of the most intriguing reasons to have a website for your business is because it can increase your chances of getting leads.
Once people find you online, become interested in your product or service and want to know more, they'll know how to contact you thanks to the information on your website, which gives you the opportunity to increase your sales. Even though websites have a cost, when used correctly, they have a positive ROI.
Organic Traffic 
Once you're online and have an SEO-optimised website, you have a chance of showing up in Google search results. This means that when people are searching for a product or service, there is a chance your website will show up in the results. This gives you the opportunity to drastically increase your customer base.
Saving You Time + Customer Service
Many businesses get calls from prospects or existing customers asking simple questions about location and hours of operation. If you miss a call, the customer is left unhappy. Calls can also distract your staff from focusing on the most important parts of your business. A website can reduce these calls and increase internal productivity. At the same time, it helps customers find useful information without needing to call, which ultimately provides an all-around better user experience.
Updates And Announcements
Since your website is on 24/7, it's easy to post updates and announcements to your customers. It's a way to keep them up to date on everything that you're doing. When something is particularly relevant to them, it increases the chance of you being able to upsell them.
If you plan on leveraging digital marketing to increase your leads and grow your business, you'll likely want to drive traffic to a website or landing page. To do this effectively, leverage historic traffic that has been going to your website so you can target the most qualified customers and get the best ROI on your ad spend. This is something that can't be set up retroactively, so it is best to get your website running early even if you're not planning on running ads at the moment.
Websites have become essential to business today. Strategic Media Partners strongly recommend creating a website for your business if you haven't done so already. You can improve it over time, but the key is to start.
Sourced from https://www.forbes.com/sites/theyec/2020/02/03/why-every-business-needs-a-website/?sh=71df27406e75
Do I need a domain for my website?
A domain name is a unique identifier that represents you and your business on the internet. So if you don't have a website do you really need one? Absolutely!
It is essential that your business secures an online presence. Putting the technical jargon aside, a domain name does this by giving you an exclusive address on the internet. The domain is most commonly used to identify your website and email address but can also be used for other specialised online functions.
It goes without saying that the domain name you pick must match your business and your brand. The name that you use to advertise your products and services is the name that you will want.
There are several different types of domain names and in our case, the most popular would be .COM and .COM.AU.
The .COM is the most recognised and popular type of domain and can be freely bought and sold by anybody. This domain type is recognised globally and should be considered the equivalent of prime real estate on the internet.
The .COM.AU identifies the domain entity as being based in Australia and an ABN, ACN or ARBN are required to register the domain name. There are also other requirements that can be found on the AUDA (Australian Domain Name Administrator) website. The AUDA is an organisation that manages and governs the .AU namespace and ensures all rules and policies are enforced.
In today's world finding out that the domain name you want is not available is quite common. There are many domain marketplaces such as www.netfleet.com.au which can facilitate the trade of domain names. Other options may be to look to other domain types such as .BIZ, .NET and the new .CO is set to become the next .COM. If your .COM.AU domain name is not available and you believe that the current owner does not meet the domain ownership requirements, you can lodge a complaint with AUDA who have the authority to cancel domain registrations.
When registering your domain name, make sure you also include email and website hosting. You may also want to enquire about DNS (Domain Name System) Management if your business operations are more advanced (Canonical Name, Sub Domains, Other Servers hosted elsewhere).
All in all a domain name gives you an online presence and is the gateway for customers to reach you. Strategic Media Partners would be to try to align the domain name to the business name as much as possible and make it memorable, short and easy to remember. If your business has not yet progressed to having a website, you should still secure your domain name for the future!
Jason Murray is the General Manager at Orstead, which provides outsourced IT Support and Consulting services www.orstead.com.au
How often should I update my website?
Successful websites interact with consumers to provide up-to-date and new information. SEO also favours websites that have a consistent stream of new and relevant content.
However, here are 5 signs it is time to update your website:
1) Your website is missing information and cannot be updated easily.
Content Management Systems (CMS) have come a long way since their inception so there is no excuse for not using one to manage your online content. With an easy-to-use user interface, anyone nowadays can update their own website without the need for coding.
2) Your brand has evolved.
Your website is your brand identity and you will want this to be reflected in your designs. Overall goals and objectives change as your business grows and it is important to express this on your website.
3) You don't like your website.
A website is a form of self-expression and, like self-expression, it evolves over time. The same could be said about web design. A webpage from 10 years ago will look and feel outdated as trends change and new technologies emerge.
4) Your website isn't optimised for mobile.
It should not come as a surprise that a lot of content is viewed through mobile devices. If your webpage has not got a responsive design, then you run the risk of losing potential customers. Functionality is a main focal point when customers determine a brand's credibility and trust.
5) You're not getting the traffic you would like.
This is where SEO is important. If your traffic metrics are not where you want them to be, then it is time to reassess your website's SEO value. The optimisation is all about making constant tweaks and adjustments to reflect Google's ever-changing algorithms.
Do you know the audience for your website?
Do you know your audience? Do you know your business and what it is you contribute to this world? Why should anyone come to your site and do business with you? It's not because you think you have an awesome product — that just doesn't fly anymore. "Build it and they will come?" Unfortunately, that's not how it works. You need to have a mission and goal for your website.
If you'd like to succeed, you need to know your audience. You have to uncover everything about them. You can probably find out what they say they want, but is that the same as what they really need? Does your product or service merely offer a possible solution to a problem or does it make your customer's life genuinely better? Do you sell a drill or a hole in the wall?
Your story has to be right. It has to align with what people want and need. It means you should nail search intent for your site. Uncover all the different ways how people can end up on your pages and tailor these to answer their questions. Map out the user journey from A to Z and place your content in strategic spots. Also keep a close eye on the way you formulate your answers — more often than not, a conversational style will turn out to be what you are looking for.
Would my business benefit from digital marketing?
Short answer:
Yes. No matter how big or small your business is, having an established digital footprint is essential to any communication plan. Audiences will use this footprint to determine your brand's credibility and trust. If your customers use digital devices online, then your business should be implementing digital marketing campaigns.
Does my website need to be trustworthy, safe and secure?
Both search engines and users are looking for signals that signify trust. Why should your site or your content be trusted? Regular downtime might point to sloppy maintenance. A missing green lock icon might mean you don't take security seriously. There are a lot of little hints that they look for.
Search engines like Google want to give searchers the best possible result. Increasingly, if a search engine doubts the claims you make or if you use sketchy 'experts' to validate your content, they will not show your content. They will pick a result that has proven to be a good result. That's why you need to work on your trustworthiness on all levels, both technical as well as in content.
In addition, your site should be a safe haven for visitors. You need to have your security in order. A hacked site isn't getting you anywhere! And a hacked site is easier to prevent than it is to fix. Use up-to-date software, have your SSL in order, make strong passwords, use tools such as Cloudflare to protect your site from DDoS attacks, et cetera.
Does my Australian website need a Privacy Policy?
Did you know that Australian legislation has recently changed with regard to websites and the collection of information from users? It is now illegal to publish a website without a statement of your Privacy Policy if you are collecting any personal information from the public. If you would like more information on how to put a privacy policy on your website, please click here to see how Strategic Media Partners can help you.
Your site is mobile-friendly (or rather, designed mobile-first)
For the last couple of years, mobile traffic has kept growing and growing. If your site is not mobile-friendly by now, you should get to it and work on your mobile SEO. Strategic Media Partners can help develop your new website with mobile-first in mind.
It's not a new concept or anything, but most sites are still being developed desktop-first. After designing the desktop view, the designer crams it down to mobile size, often losing its authenticity and freshness along the way. Strategic Media Partners adopts a mobile-first mindset which helps you focus on the tasks users should be able to do on your mobile site. It helps to clean up the clutter and, more often than not, lets you come up with a minimal and fully focused design. Less is more, remember?
Your site can 'talk' directly to search engines
For years, search engines tried to read content on pages to determine what that page is about. They need that content to be able to match the search query with the indexed pages that give the best answers to this query. Turns out that truly understanding what something on a page is or means, is harder than it seems, especially for machines. Search engines need a little guidance to discover the true meaning of elements on a page. Enter, structured data in Schema format.
Schema is kind of like a translator for search engines. It describes elements on a page, so search engines can now say with certainty that a review is a review and a recipe is a recipe. In return, because Google is so certain about the content, marking up these elements can lead to rich results on the search results pages. This includes carousels, nutritional information for recipes, star ratings, FAQ dropdowns, swipeable How-To boxes on mobile and much, much more. Structured data is one of the areas search engines spend a lot of resources on these days, so pay attention.
We noticed this and built a complete and fully extendable Schema framework inside the website built by Strategic Media Partners. This structured data implementation builds a complete graph for your site, so search engines not only know what everything means but also how everything is connected to the bigger picture.
How do I set up Google My Business
Follow these steps to create your Google My Business profile.
Go to www.google.com/business to sign in. You can either sign in with a pre-existing Google account or create a new one. If you're already signed in, skip ahead to the next step.
Tip: Make sure you sign up with your business email domain.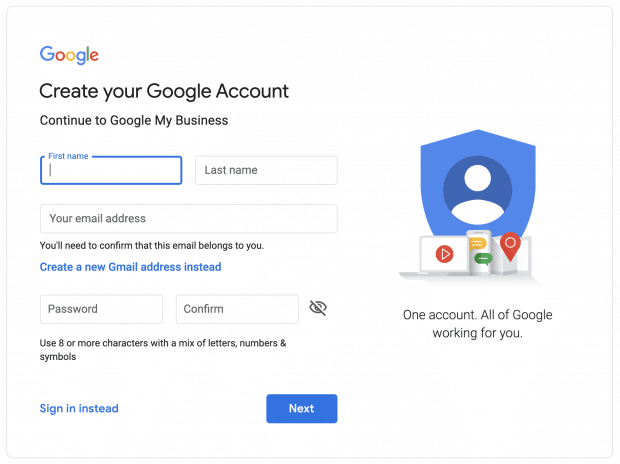 Step 2: Add your business
Enter your business name. If it does not appear in the drop-down menu, click Add your business to Google. Then select the appropriate category for your business.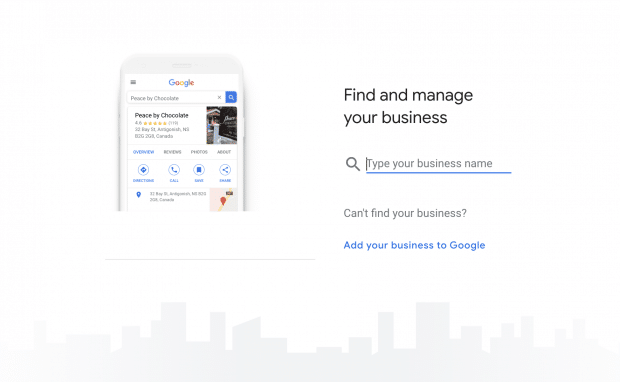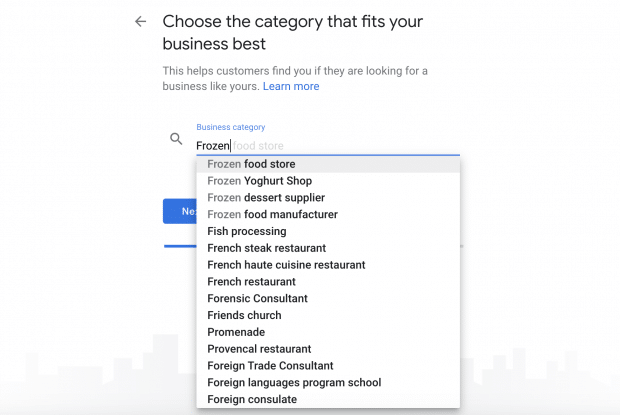 Step 3: Enter your location
If you have physical location customers can visit, select Yes. Then add your address. You may also be asked to position a marker for the location on a map. If your business does not have a location customers can visit but offers a service or delivery, you can list your service area.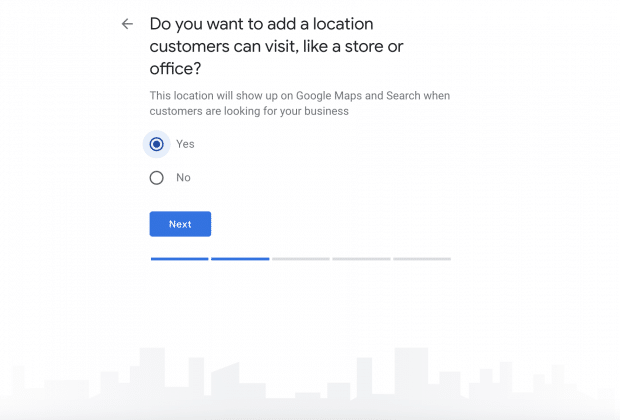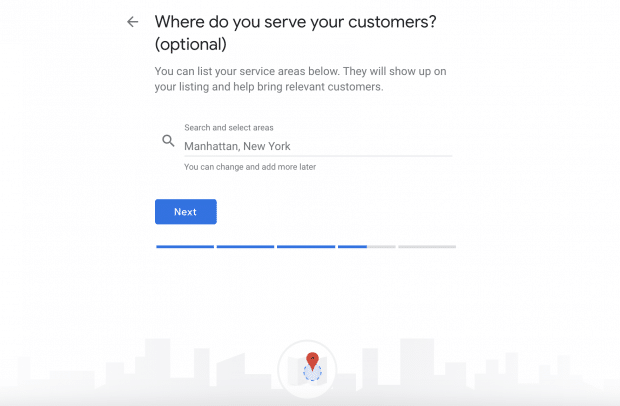 Step 4: Fill in your contact information
Enter your business phone number and website address so customers can reach you. If you use a Facebook page rather than a website, you can add that instead.
Step 5: Finish and manage your listing
Check Yes if you would like to receive updates and notifications. Then click Finish. You'll then be asked to verify your business.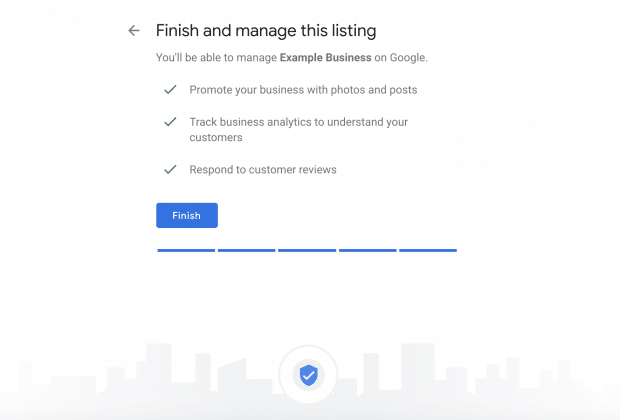 How to verify your business on Google
Now that your account is set up, here's how to verify your Google business. For most businesses, Google verification involves requesting a postcard.
Go to www.google.com/business to sign in.
Step 2: Click Verify now
If you have multiple Google My Business accounts, make sure you choose the correct one.
Step 3: Choose a way to verify
Postcard by Mail is the default verification option. If your business is eligible for other methods, such as phone or email, choose the one you prefer. Fill in the required details. Double-check to make sure you've entered it correctly, then submit the form.
It can take a few days to two weeks for the postcard to arrive. When you receive your postcard, sign in and click Verify location from the menu. Enter the five-digit verification code from your postcard.

Note: It may take a few weeks for your business listing to appear on Google. While you wait, download the Google My Business app so you can manage your account.
How to claim your business on Google
Need to claim an existing Google business profile? There are three options:
Option 1:
Sign up or log in to Google My Business. Search for your business, and select it. Then follow the steps to confirm that you are the owner.
Option 2:
Locate your business listing in Maps, and click Manage this listing.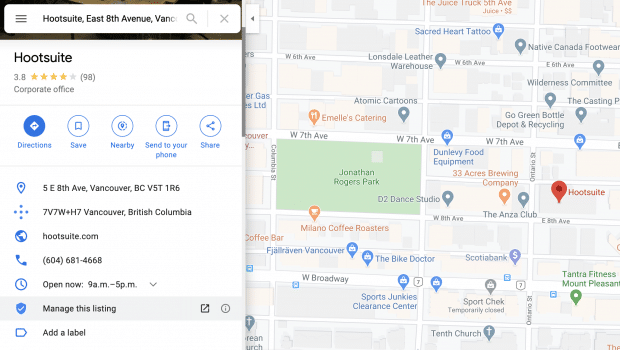 Option 3:
Look up the business listing in Google Search and click Own this business.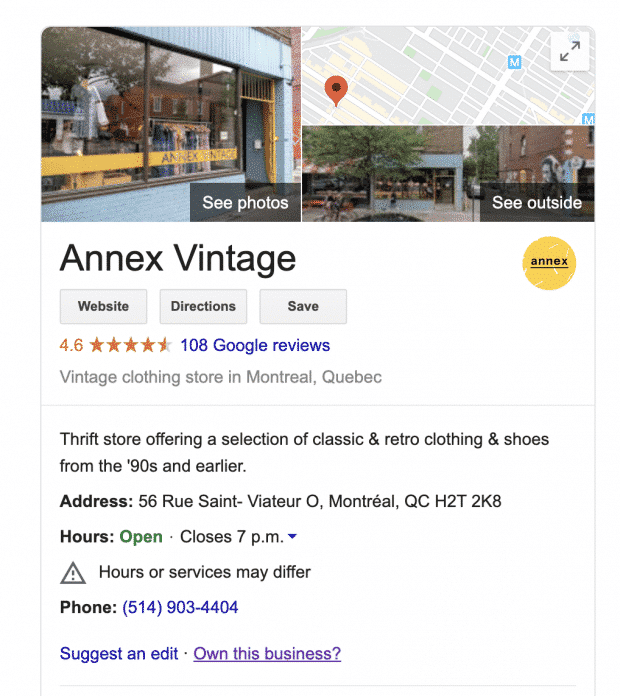 Don't panic if the details aren't accurate. You can edit once you've verified that you're the owner.
If someone else has already claimed the business, but you work for the same company, ask them to add you as a user. If you don't recognize the owner, follow the steps to reclaim your business.
Sourced from https://blog.hootsuite.com/google-my-business/
How to edit your business on Google
Need to edit information on your Google My Business profile? Here's how:
Sign in to Google My Business.
Open the location you'd like to edit.
In the menu on the left, click Info.
Click the pencil icon to make your edits. If you want to remove a section, click the X. When you are finished, click Apply.
Keep in mind that it can take up to 60 days for the edit to appear. There may be some information, from other sources, that cannot be edited.
How to add multiple locations on Google My Business
If you've opened a new location or just created a profile and need to add additional locations, follow these steps.
From your Google My Business dashboard, click Manage locations in the left hand menu.
Click the blue Add location button on the right.
Type in your business name and click Create a new business with this name.
Fill in the information and request verification.
Another option is to go to Google Maps and drop a pin on the location you would like to add. Click Add a missing place in the left menu. Fill in the details then select Claim this business.
If you have more than 10 locations, you can add them in bulk.
Sourced from https://blog.hootsuite.com/google-my-business/
Can you turn off Google reviews for your business?
No. You cannot turn off Google reviews for your listing. And it wouldn't be in your interest to do that anyway, as reviews show customers that your business is legitimate.
But, you can flag and report inappropriate reviews.
Managing reviews is important, but it can be difficult if you oversee multiple locations and Google My Business accounts. With Hootsuite, you can manage and respond to all reviews from one streamlined dashboard.
Learn more about what you can do with Hootsuite's Google My Business integration.
How to mark a business or location as temporarily closed
If you need to close seasonally or temporarily, mark your business as temporarily closed. Doing this ensures customers are up-to-date without affecting your local search ranking.
How to mark your business as temporarily closed:
Sign in to Google My Business.
Click Info in the left menu.
Look for the Close this business on the Google section on the right.
Click Mark as temporarily closed.
To set special hours for holidays or other circumstances, click Info in the left menu, then Special Hours.
8 ways to optimise your Google My Business profile
Add polish to your business on Google with these tips.
1. Fill out your whole profile
Give Google as much information about your business as possible. Why? It makes it easier for Google to match your business to customer searches. In other words, it improves your search ranking.
As Google explains, "Local results favour the most relevant results for each search, and businesses with complete and accurate information are easier to match with the right searches."
That means you should fill out contact details, categories, attributes, and more. Make sure to use the right keywords where possible.
Google determines local ranking based on three factors:
Relevance: How well your listing matches a search

Distance: How far your location is from the search or searcher

Prominence: How well-known a business is (based on several other factors)
Using the right keywords will improve relevance. Not sure where to start? Try Google Trends.
For example, if you run a vintage clothing shop, search "vintage clothing" in your location. Look at related topics and terms people are using for keyword inspiration.
Social media impacts your SEO ranking, too. Find out how.
2. Standout with photos
Help people see what your business is all about.
When you create your Google My Business profile, you'll be able to add a logo and cover photo—much like you would on Facebook, Twitter, LinkedIn or Pinterest. Without these images, it will be harder for people to recognize your brand online.
Don't stop there. Show off your location, products, or handiwork by posting additional photos. If you run a restaurant, post pictures of your meals, menus, and dining room. Make sure they look appetizing, professional, and aren't low-res. According to Google, businesses with photos receive 42% more requests for directions, and 35% more clicks through to their websites.
If you can, hire a professional photographer. It makes a difference. And it pays for itself in the end. Airbnb listings with photos taken by a professional photographer see a 40% increase in earnings, 24% more bookings, and 26% higher nightly prices. If you can't afford a professional, read these photo-taking tips.
How to add photos to your Google My Business profile:
Sign in to Google My Business.
Open the location you'd like to manage.
Click Photos from the menu.
Choose the type of photo that you'd like to add.
Upload your photo from your computer or choose the one you've already uploaded.
3. Post news, updates, and special offers
Information on your Google My Business profile such as your address, hours, and contact info should always be accurate and up-to-date. Make sure to edit this information if it changes.
You can also create posts for your business to inform customers of updates, new products, offers, and events. Depending on your goal, these posts can keep your profile fresh, drive sales, and encourage visits to your physical or digital storefront.
How to create a post on Google:
Sign in to Google My Business and open the location you'd like to manage.
From the left-hand menu, click Posts.
Choose the type of post you'd like to create from the options given.
Enter the relevant information in each field. Copy should include necessary details and be concise. Avoid commercial slang and too much punctuation (!!!!!).
Click Preview to double-check formatting and spelling. If you need to make an edit, click the back arrow.
When you're ready, click Publish.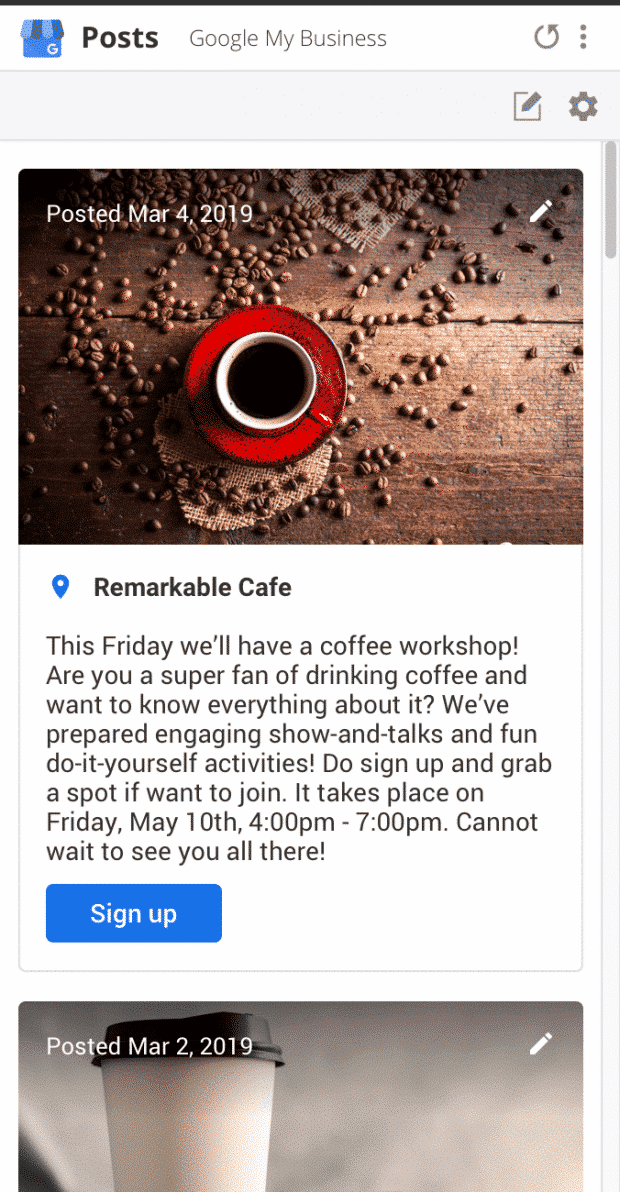 If the type of post you've chosen includes an option to include rich media, take advantage of the opportunity. According to Google, people engage more with posts that have photos, videos, or GIFs in them.
4. Add special features and attributes
Special features are available for Google business accounts, depending on the category you've chosen.
Here's a rundown of category-specific features available:
If you think your business is eligible for one of these features, but you don't see them, you may have chosen the wrong category. You can choose up to 10 categories for your business.
You can also add factual attributes to your profile to share more info your customers may care about. If you run a shop or restaurant, you may want to share that it's wheelchair accessible, and offers free Wi-Fi, or outdoor seating. You can even share if your company is Woman-Led.
How to add or edit attributes:
From your account dashboard, click Info.
Find Add Attributes and select Edit. Search for the attribute you want to add or scroll through all the available options for your business.
Click Apply.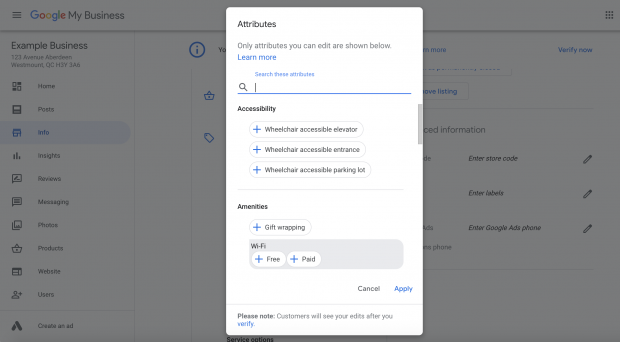 5. Encourage customers to leave reviews
People trust other people more than they trust business. A good review can be the deciding factor that tips prospective customers in your favour. Reviews also improve your Google ranking.
The best time to ask for a review is after providing a great experience. Whether in-store or online, consider sharing a card or e-receipt that asks for a review. Google offers businesses access to a free marketing kit with stickers, social posts, and printable posters.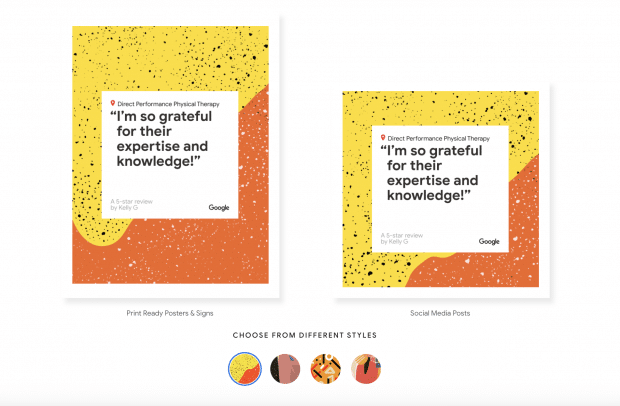 You can also create a custom short link to make leaving a review easy. It will look like: g.page/[yourcustomname].
How to get a custom URL for your Google My Business account:
From the dashboard, click Info and then Add a short name.
Enter your short name. It can be up to 32 characters. You may need to come up with alternatives if the name you want is taken.
Click Apply.
When it's ready, your short name will show on your business profile.
6. Build trust by responding to reviews
Show current and prospective customers that you value their feedback by responding to reviews. According to a survey by Google and Ipsos Connect, businesses that respond to reviews are considered 1.7 times more trustworthy than those that don't.
Positive interactions build loyalty. Remember to respond in your brand voice, and stay respectful and professional. That goes for negative reviews, too. Don't ignore them. Turn things around by listening and addressing the issues raised.
Be honest and be sure to offer an apology when it's warranted. If the matter is sensitive, ask them to send you a private message.
Make sure to answer questions, too. Anyone can respond to a customer question left on your Google My Business profile. Try your best to make sure you respond first. Show people that your business is active and reliable, and prevents the potential spread of misinformation.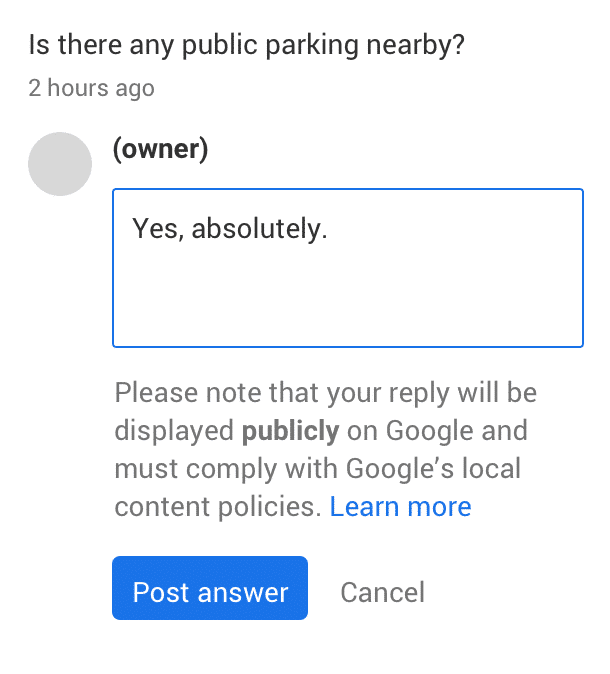 Note: Google has temporarily disabled review response and Q/A functionality for GMB locations due to COVID-19.
7. Manage everything in one place with Hootsuite
Staying on top of multiple locations or businesses is demanding. Luckily, once you receive Google verification, you can integrate your Google My Business account with Hootsuite.
From one central dashboard, you can promote company updates, respond to reviews, and keep track of what people are saying about your business. Not only does this save you time, but it also makes it easier to identify common themes.
For example, if people are asking similar questions on different accounts, it may be worthwhile to post an update. If that's the case, you can do that directly from the Hootsuite dashboard as well.
Here are some more tips on how you can use Hootsuite to manage your Google My Business account.
8. Refine paid and organic reach with insights
Another advantage to having a Google My Business profile is that it provides you with access to insights. These insights go above and beyond Google Analytics.
Track how many customers search for you, call your business, ask for directions, click on your photos, and more. Knowing what keywords, photos, and actions are most popular can help you adjust your profile—and even inform the content you create for social media.
Google My Business insights come in handy with Google Ads, too. With a Google Business account, you can use local extensions in your ads. These extensions show ads with clickable location details. Pair this feature with insights to increase engagement and drive down the cost per click.

Here's how to link Google My Business and Google Ads:
Making the most of Google My Business is a must for any business on social media, but it's especially important for small businesses. Get more tips on how to master social media for small businesses.
What websites have Strategic Media Partners completed?
You can check out some of our happy website design and development customers by clicking here, Strategic Media Partners always aim for the very BEST website design and development results for all our customers, please don't hesitate to contact us at (07) 4951 4000 today and see how SMP can provide the very best website design, website development, eCommerce online shop website, induction system, and website platform/app solution for your company.
What is a .au domain & how do I get one?
If you already own yourdomain.com.au registering the .au domain would mean you would also have yourdomain.au which you can redirect to your website or just keep, so your competitor can't get their hands on it!
From October 4, 2022, all unclaimed .au domain matches will become available to the public. First-come, first-served basis.
Once it's released to the public, you'll lose this privilege and your exact .au direct match might end up with your competitors.
Get in contact with Strategic Media Partners today for a free availability check to help you secure the domain you want.
The new .AU domain is considered a premium domain and as such cost more than a standard domain, we will also set up this domain to point to any existing website if required.
The investment for a .au domain + redirection will be $99 ex GST
Google will also be using this new domain to help identify businesses in Australia and can be used to increase your local presence on Google.
The longer you leave it the higher the chance we will be unable to secure this limited .au domain.