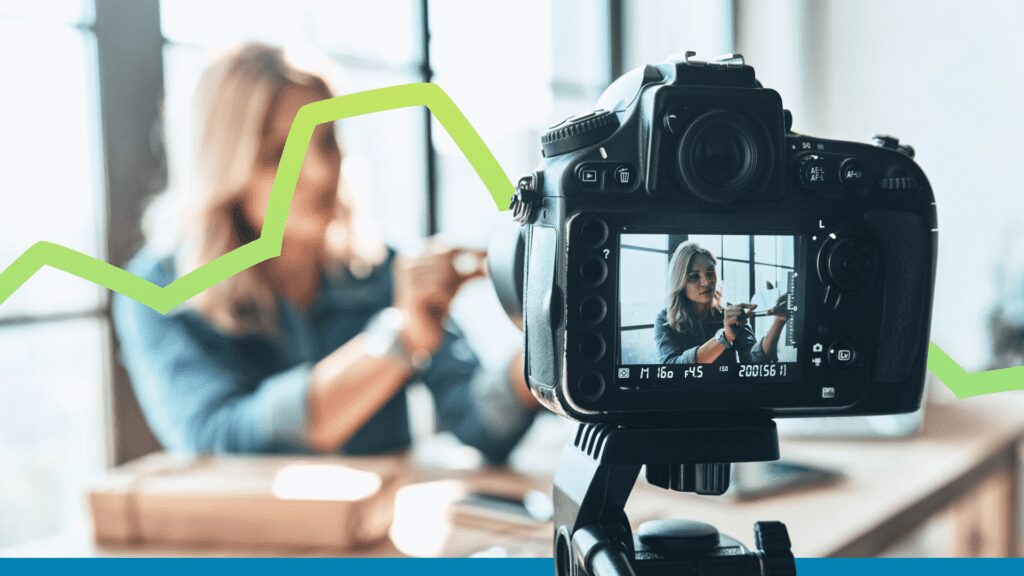 We live in a world where everything is moving faster. People no longer have the patience for long-form content and are looking for short, digestible videos, preferably under 3 minutes.
Adopting a video marketing strategy that is based on short video content not only allows you to give your audience what they want but also helps you get across your message to them in a more effective manner.
But why is short video content better than traditional long-form content? Let's assume you have an excellent blog post on your website about a particular feature or a product that you offer. The chances are that even if a particular set of your audience is intrigued by the content in the article, they might not read the entire thing. And this can happen due to a multitude of reasons including short attention spans, lack of time, etc.
The fact of the matter is, that the content that you painstakingly created is not being consumed by a section of your targeted audience. But, if you summarize the same article into a short video, the viewer is more likely to sit through the whole video, thereby increasing engagement.
What is Short Video Content? 
Short video content is often defined as anything under 60 seconds in length. Short-form videos became popular thanks to social media platforms such as TikTok, Instagram Reels, and Snapchat. It is fast-paced, emotional, and engaging. It can easily be distributed across multiple platforms, and the content style is addicting due to its short nature.
Humans have always been interested in watching small films without cuts, and as technology becomes more advanced, opportunities are expanding. Short videos also have an advantage over other long-form content in the amount of time and resources you put into creating videos.
Top brands in every industry have embraced short, easy-to-make content that is in line with the current social media trends while slowly phasing out long-form content with high production value.
What Platforms Can You Post Short Videos To?
Over the past couple of years, short video content has become a visual marketing trend that has caught the attention of all major social media platforms. Almost every social media platform worth its salt has a feature that lets you create and share short videos. Some platforms require a little bit more work than others to set up, and some will provide you with more exposure to your target market than others.
Let's take a look at all the major social media platforms that allow us to post short video content.
Platform #1: TikTok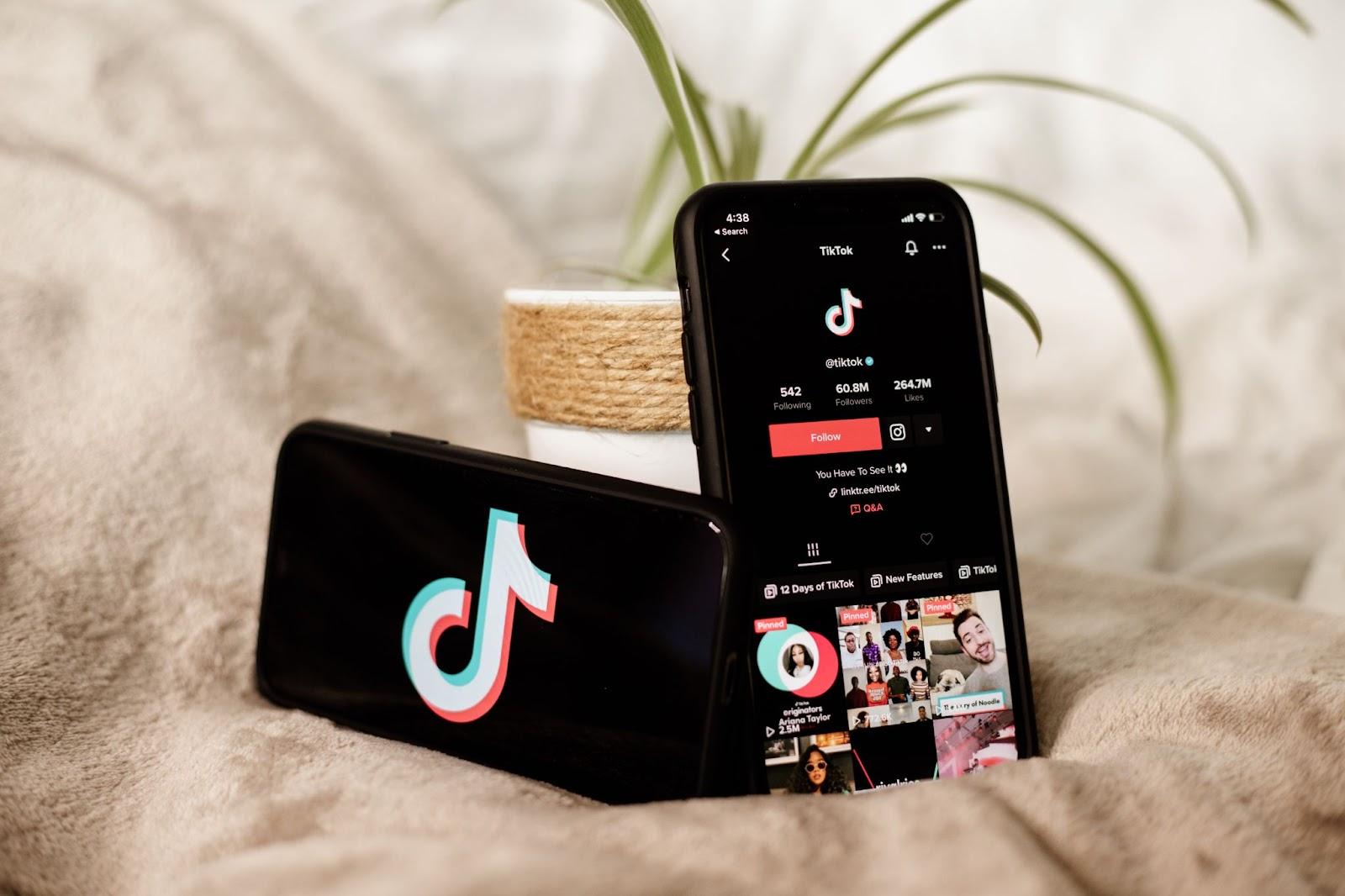 TikTok has taken the world by storm since its release in 2016. This short-form video app is a social media sensation that allows users to create and share short videos, which can now be up to 10 minutes long. With over 2 billion downloads, TikTok is growing faster than social media giants like Facebook and Twitter.
With a host of new features designed to help brands increase their engagement, more and more businesses have hopped onto the platform to promote their products. Even with an explosion of brand presence on the platform, there's plenty of room for brands to gain market share on TikTok. Getting on the platform right now is a great idea, as it allows your business to be an early adopter of a tool that drives ridiculous organic engagement and impressions.
Platform #2: Instagram Reels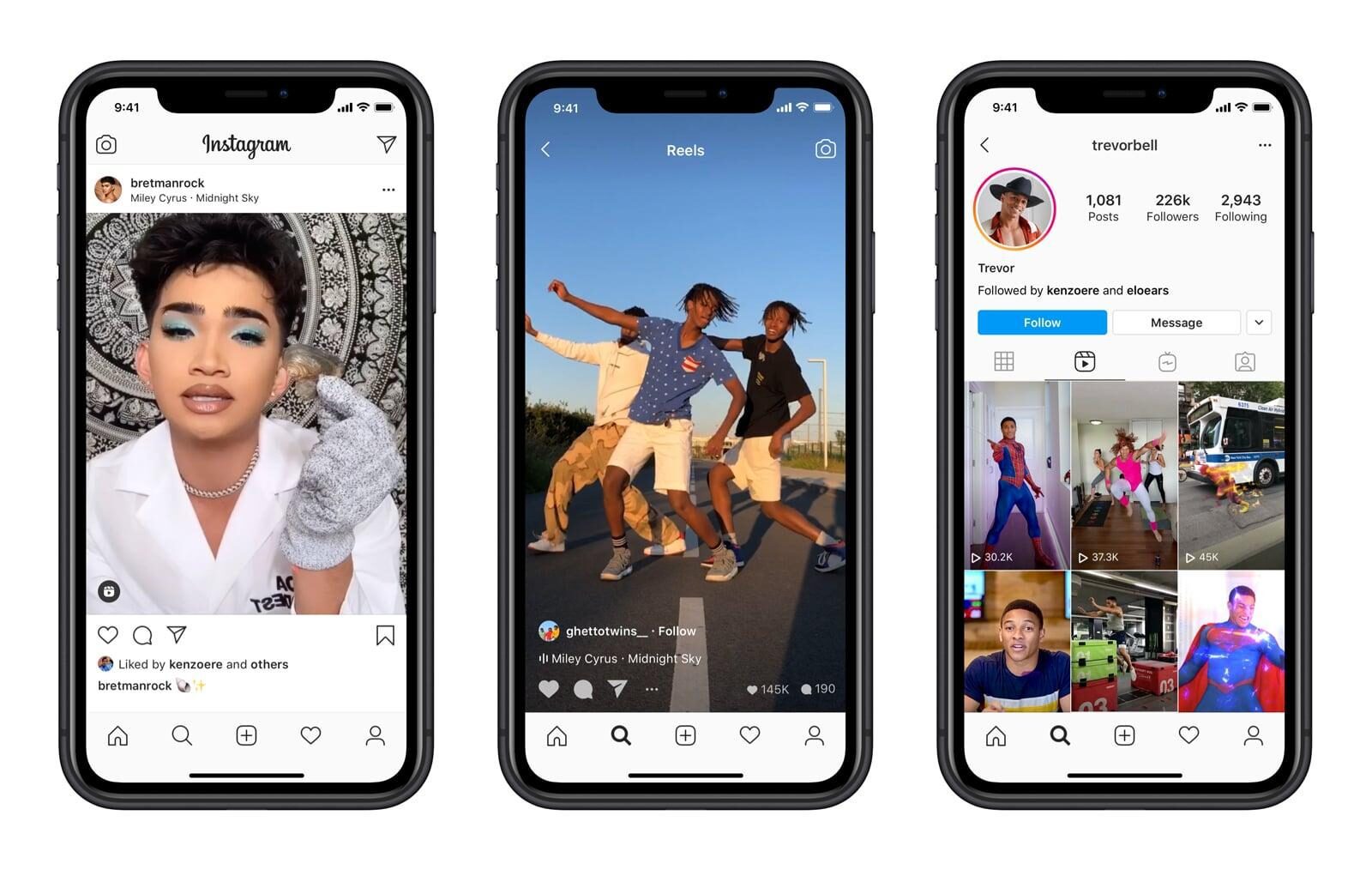 Instagram Reels is a content format that allows you to create and share short, memorable videos. Unlike Instagram Stories, which disappear after 24 hours, Reels don't time out.
It's fair to consider Instagram Stories as the original short-video format on Instagram, and while there a plenty of ways to leverage Instagram Stories to drive traffic to your website, Reels offer way more functionality and opportunity for users.
The format has grown in popularity since its introduction, mainly due to its ability to drive massive amounts of organic traffic to your page. Brands like Sephora, Walmart, and Beardbrand regularly use Reels alongside their other short-video platforms.
The addicting nature of Instagram Reels makes it an excellent content style to pursue for brands. The platform empowers you to be creative, highlight your strengths, and design visually inspiring content up to 60 seconds in length. While other platforms allow you to do all of this, Instagram is still one of the best social media platforms on the market when it comes to deploying a video marketing strategy due to its maturity as a platform.
Not only does Instagram have access to a much larger userbase than its competitors, but there's also tons of Instagram tools that can help facilitate the creation and publishing of your content on the platform. Many newer platforms like TikTok still lack the same third-party tools that make life easy for digital marketers on platforms like Instagram.
So, are Reels different from TikTok? Yes and no. Reels are usually much shorter, but does that make a lot of difference for content that's already very short? Probably not.
The real difference between TikTok and Instagram reels is the platforms themselves. In Instagram, there is the need to be 'grid worthy'. That is, you want your content to look good on your grid, and have a certain aesthetic appeal to it. TikTok on the other hand is a bit more 'crazy friendly' and allows you to explore the kind of content that wouldn't normally work on Instagram.
So, you must have separate strategies for both platforms to be successful.
Platform #3: YouTube Shorts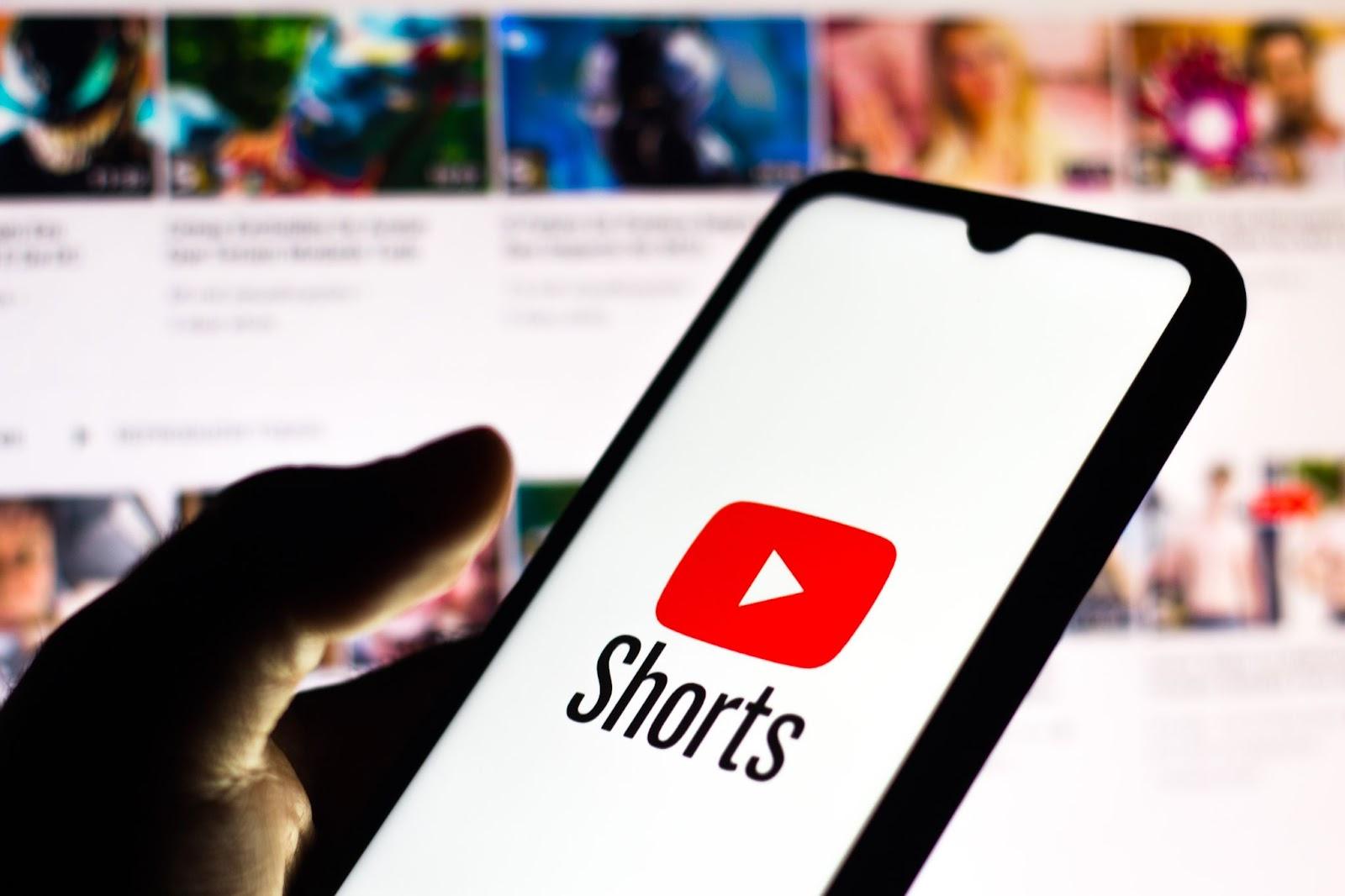 YouTube is the most relevant video platform in the world. No other platform comes even close. YouTube has 1.9 billion users, more than double the amount of the next largest video platform, Facebook. It is the second-largest search engine in the world after Google. YouTube also has the highest engagement rate of any video platform and accounts for just under half of all internet traffic. While Facebook has nearly three times as many users, its engagement rate is a fraction of that of YouTube, which has a staggering watch time of 100 minutes per day.
But a lot of that traffic was thanks to long-form videos which Youtube is generally popular for, but all that changed with the launch of Youtube shorts. Within a few months of its launch in India in September of 2020, the daily views accumulated by YouTube shorts zoomed past 6.5 billion. That number can only be higher now.
YouTube Shorts also has an advantage over Instagram and TikTok because they are apps mainly just used by younger consumers, which can make it hard for brands to find success. In contrast, YouTube is used by people from all sorts of age groups, countries, industries, and niches. It seems like there's a video for everyone on YouTube. With YouTube Shorts, more brands will be able to give their content to an even wider range of audience targets.
For example, a B2B brand might have difficulty finding success on TikTok, but they might be able to find success with professionals looking for industry-related content on Shorts. Similarly, if you target older generation audiences (e.g. Gen X), your short-form videos would get more engagement on YouTube than on TikTok or Instagram.
Platform #4: Snapchat Spotlight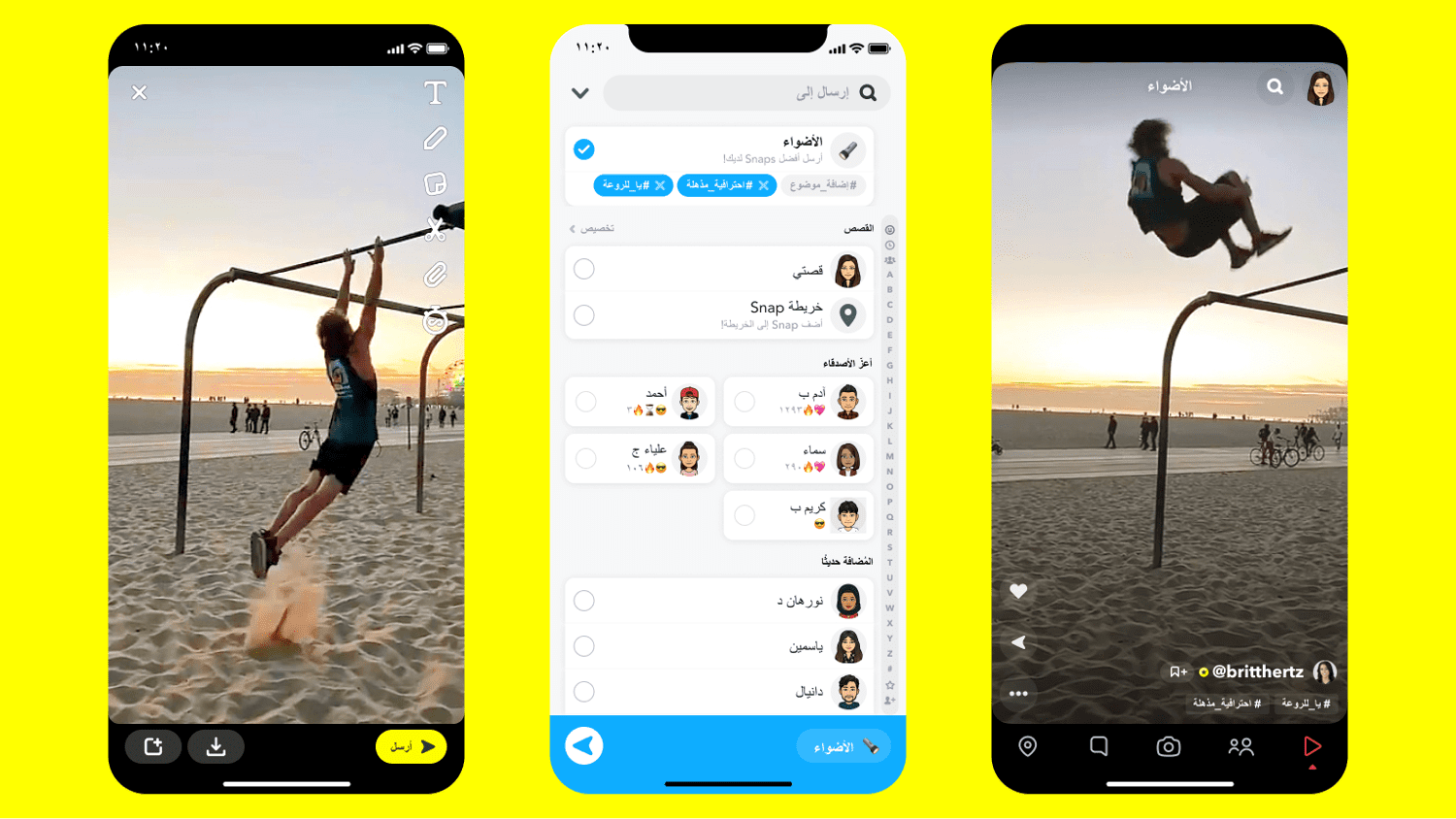 It's not uncommon for people to underestimate the power of Snapchat as a video marketing strategy tool because it's thought of as a media-sharing app where you text with friends. You may have heard of this feature called "Spotlight," where popular videos are curated and featured in a dedicated tab on the Snapchat app, much like on TikTok.
You can set this up to pull in users you follow who have posted a certain type of video, like a brand or a specific event. Then, you can choose to re-post the video to your story or not, depending on whether you think it'll be of interest to your audience.
Snapchat's user base allows brands to do promotions that are highly targeted and thus serves as a great platform to reach people that you wouldn't have otherwise reached.
How Can Businesses Drive Traffic and Sales with Short Video?
With platforms competing for short video content, organic impressions and engagement are at all time highs for those that decide to post short video content. Brands can take advantage of this to drive more traffic and sales for their business.
Let's go over some methods that you can use to drive more traffic and sales to your business with short video content.
1. Hire Influencers to Create Short Video Content
There are several benefits to hiring influencers to promote your business. People are visual learners and video allows you to communicate with them in a very powerful way.
Influencers allow you to add a human element to your brand, this is important considering that people trust people more than they trust brands.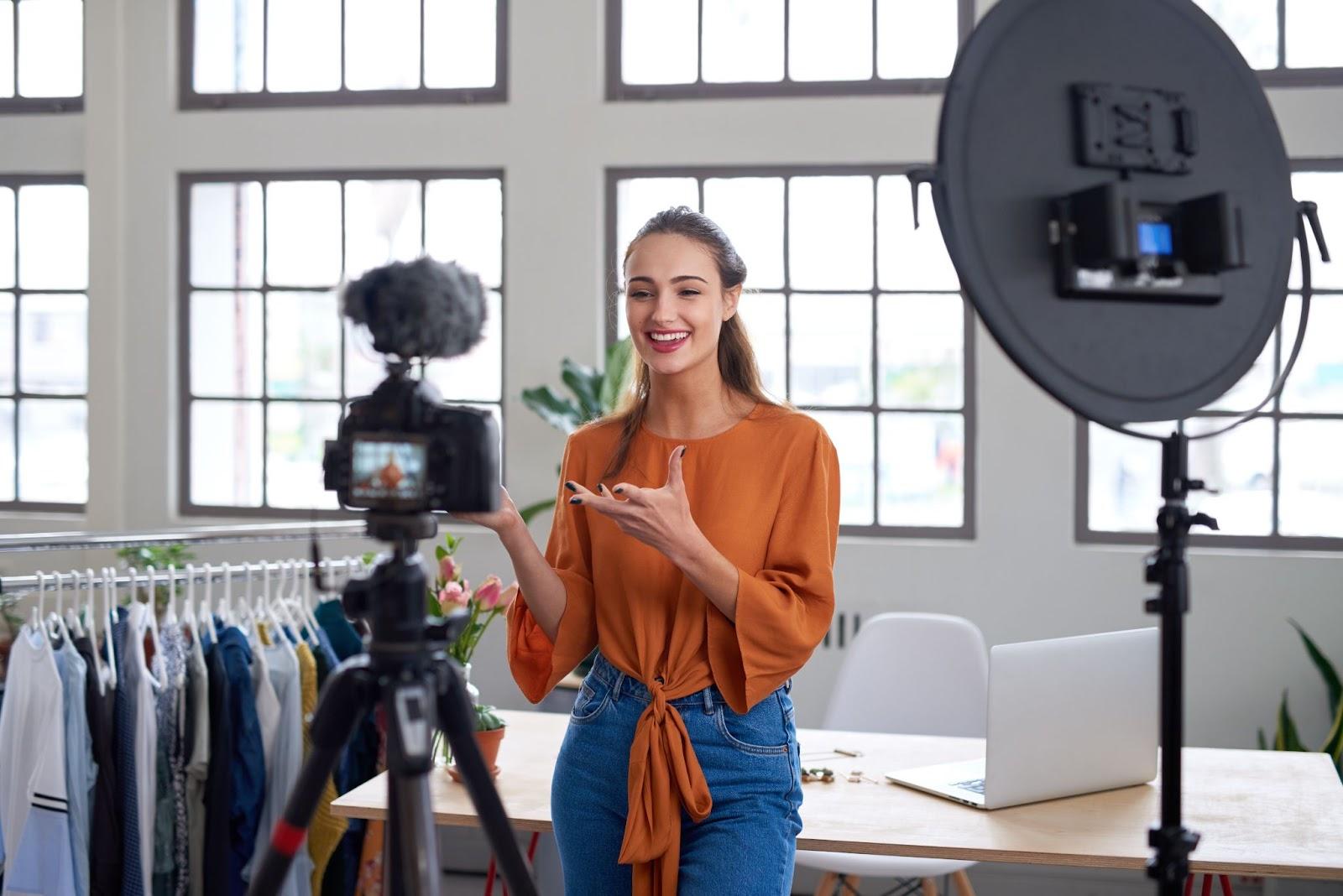 Here's things to keep in mind when using influencers:
They should create educational videos that attract people to your product. Content should be natural, and not overly promotional.
Influencers should grant you permission to redistribute the content, sometimes this is going to cost you a bit extra, but it's well worth it.
You should have methods in place that allow you to track ROI of the influencer content, whether that be sales, website visits, signups, or more.
Provide them with an influencer campaign brief so that they are clear on the goal and objectives of your campaign. Confusion and misalignment between brands and influencers is the number one reason why campaigns fail to work out.
The videos should be a mixture of your brand identity and the influencer's own identity. If you don't have a brand identity yet, here is a checklist to help you establish one.
If you have any problems finding the right influencer for your brand, you can make use of an influencer marketplace, this will make the process of finding influencers for your brand much less time consuming.
2. Run Ads with Short Video Content
Using short video for your advertisements is an excellent way to drive traffic to your website. There are multiple benefits to paying for traffic, and video does an excellent job of capturing the attention of the users.
Short video content gives you more opportunity to capture the attention of an audience as opposed to static photo content. This can be accomplished by using a catchy hook, having a clear message, and choosing the right short video ad format.
Short video ad formats are broken down into three categories: skippable video ads, interactive video ads, and in-stream video ads. By choosing the right video ad format for your business, you'll be able to create an effective video ad and will be able to track how effective your video is and convert them into customers
The most important tip we can give is to create an ad that is both interesting and relevant to your business. If your ad doesn't have either of these traits, then it will not have the ability to get many views and clicks. These days, natural content seems to work best, so don't try too hard to sell your product. Instead, let the product sell itself by showing off the most valuable aspects of the product.
A few things that make video ads particularly great are captions and fast cuts, these are both great ways to retain the attention of the viewer so that they watch the ad all the way through. There are plenty of web-based ad makers that can help you achieve this, which is great for people that lack the knowledge to use traditional video editing software like Adobe Premiere or Final Cut Pro.
Whether you are looking to get more traffic or want to increase your ROI, short video ads can also help you gain more organic traffic. When you use video ads, you'll be able to get a higher click through rate (CTR). A higher CTR means that more people will be able to click on your ad or watch your video and then they'll be able to go directly to your website.
3. Ask Your Customers to Create Short Video Content
Asking your customers to create short video content that serves as testimonials for your product is perhaps the most powerful tool you have at your disposal to reach the targets outlined in the video marketing strategy. Testimonials are easy enough to make for your customers because all they would need is some sort of video recording device and the ability ‍to send the footage over to you.
The power of word-of-mouth has been so studied and documented that it's scary. A study by MarketingSherpa found that customers were willing to spend up to 30% more on a product after reading positive reviews.
Another study found that customers were willing to spend 43% more when they were provided testimonials. Video testimonials are a powerful way to get your customers to speak up on your behalf. 94% of customers trust word-of-mouth referrals and 92% are more likely to trust a local business with a customer review.
A recent study found that customers are just as likely to trust a review from a stranger as from their friend. Video testimonials are the next best thing to a customer recommendation. The greatest benefit of video testimonials is that they build trust and credibility for your business. Testimonials tap into a deeply rooted psychological bias where we trust the opinion of people we know.
4. Add Short Video Testimonials and Product Videos to Your Website
Adding the short videos that you create to your website is a video marketing strategy that we can't stress enough.
When customers are browsing around your website, there are a million questions or objections they have about your products. With a short video formatted as a TikTok, you can easily answer most common questions or objections in less than 60 seconds.
The reason short video formatted as a TikTok or Instagram Reel works especially good is because consumers are already familiar with this format because they browse content on those social platforms. When they see this style of content on your website, it provides comfort.
Explainer videos on the homepage of your website help reduce the burden on consumers of having to navigate to different sections of your website to learn about your product. The easier you make it for potential customers to learn about your product, the better it is.
Adding short video content to your website is an excellent way to handle objections and increase conversion rates. You can even leverage short video on your "about us" page to build trust.
5. Repost Your Short Video Content to all Social Media Platforms 
There is no upside to publishing content and then doing so little with it afterward. If we can get more mileage out of the expensive content we create, our return on investment will only go up. That's right — re-using your content will improve your entire video marketing program's ROI.
Publishing a piece of short video content and then not redistributing it is a wasteful strategy. It's like buying an expensive clothing item and only wearing it once before throwing it away. A huge part of content creation is repurposing content.
When you post a piece of short video content on TikTok, download the original and post it on YouTube shorts and Instagram Reels as well. Slice it up into smaller clips and use it as an ad creative. Find creative ways to re-use your short video content.
That's a lot of traffic and conversions you have to give up if you let your content lay dormant on a blog or social media post, with no re-shares, links, or clicks.
Conclusion 
Adding short videos to your video marketing strategy is an excellent way to increase traffic and engagement across your social media channels.
The different methods listed above show how there is no single method of leveraging short video content to drive more traffic for your business. Rather, there are multiple strategies that can help get your short video content in front of more people, and by constantly iterating and introducing new strategies you can make this an effective channel for your business.