Does your web site have a high bounce rate?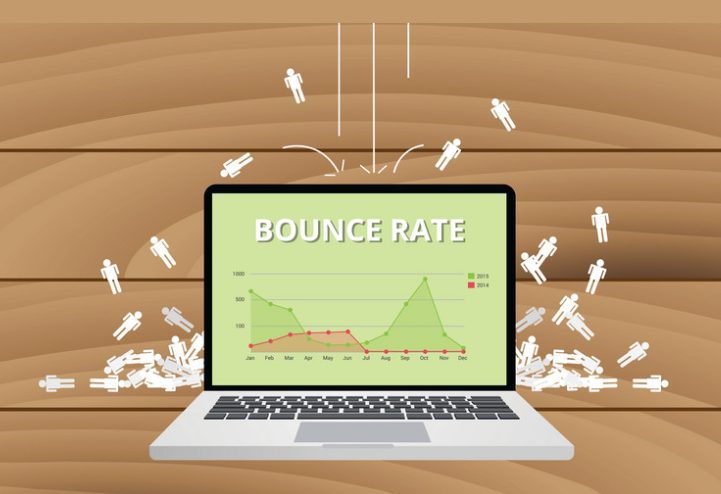 So…what is a bounce rate?
The bounce rate of your web site is a measure of visitors who arrive at your site, then leave without clicking on other pages. If you have a single landing page then the bounce rate reflects how many visitors leave after a short time or without interacting with forms or buttons.
What is the impact?
Having a high bounce rate can mean that although visitors are coming to your web page they are not following through to generate the sale or make contact with you. That means, lost sales opportunities.
Eight reasons your web page may have a high bounce rate:
Slow load times
The longer your web page takes to load the more likely your viewer will leave. Viewers expect a page to load in under 3 seconds and that is why a well optimised fast loading page is vital to capture your audience.
Links to external sites
If you have links on your page that lead to external sites you could be diverting your audience away from your key messages and call to action. Links to external sites can also impact your Google search ratings. Rather than divert to outside information sources, make sure you have content on your page that can be quickly seen and is relevant to your topic.
Wrong audience
A high bounce rate might be an indication that your advertising and marketing is attracting the wrong audience to your page. While the ad or message attracts them to your site, they may be the wrong demographic or may not be in the market to shop. This highlights the importance of creating a message that is targeted to the right audience both in your advertisements and on the landing pages.
Your advertisements don't match page
If your audience arrives at your page and find that the content doesn't match what they were expecting they will also leave. With such a short time to grab their attention it's critical that your opening message and images on the landing page match your advertisement and quickly convey the right message.
Unclear or missing call to action
If the reader isn't prompted to take action or if the call to action (form or call button) can't be found they will also leave the page. A good landing page will often have several obvious call to action point to make it easy and clear what the reader is to do next.
Too complex
Web users have a short span of attention and don't read detailed blocks of information. Your page should have simple, easy to read headings and very short blocks of text. Visitors will skim read headings and good imagery is important to support the information.
Pop-ups or overlays
While simple pop-up boxes are useful for quick collection or transmission of information, if they cover too much screen or are difficult to close-down you may lose your visitor. Certainly pop-up boxes that appear repeatedly will definitely drive away visitors.
Page may not be mobile friendly
The majority of people browsing the web are now using mobile devices. Most well designed web sites and landing pages are setup to display on both desktop and for mobile devices. If your site or landing page is structured to fit only on a desktop you may be losing visitors who are using mobile devices because navigating the page becomes much more difficult.