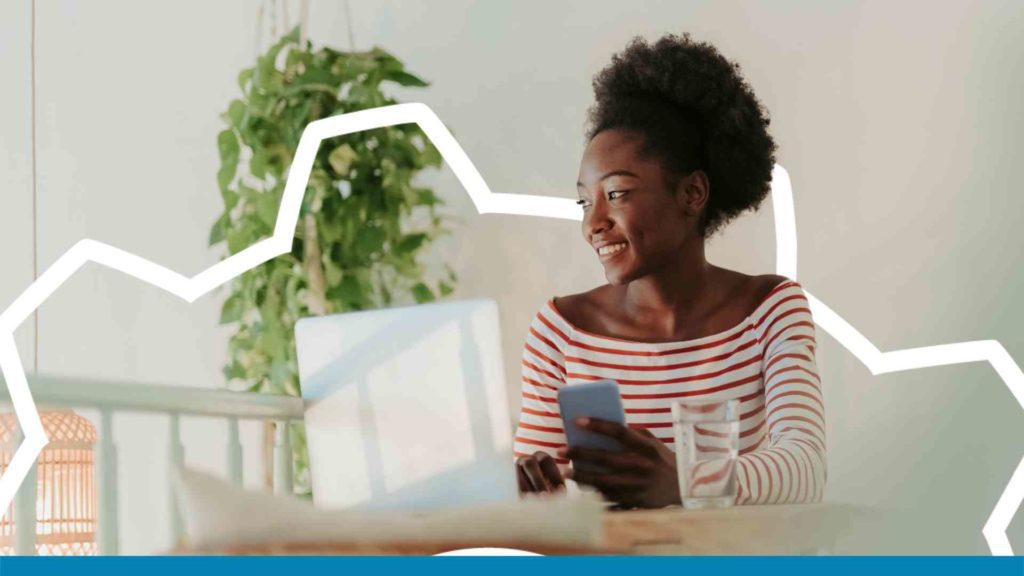 It's a well-established fact that global consumers are increasingly favouring e-commerce, and the factors contributing to the success of e-commerce businesses are multifaceted. According to a forecast from Statista, retail e-commerce revenue in the United States is projected to surpass $1.3 trillion by the end of 2025.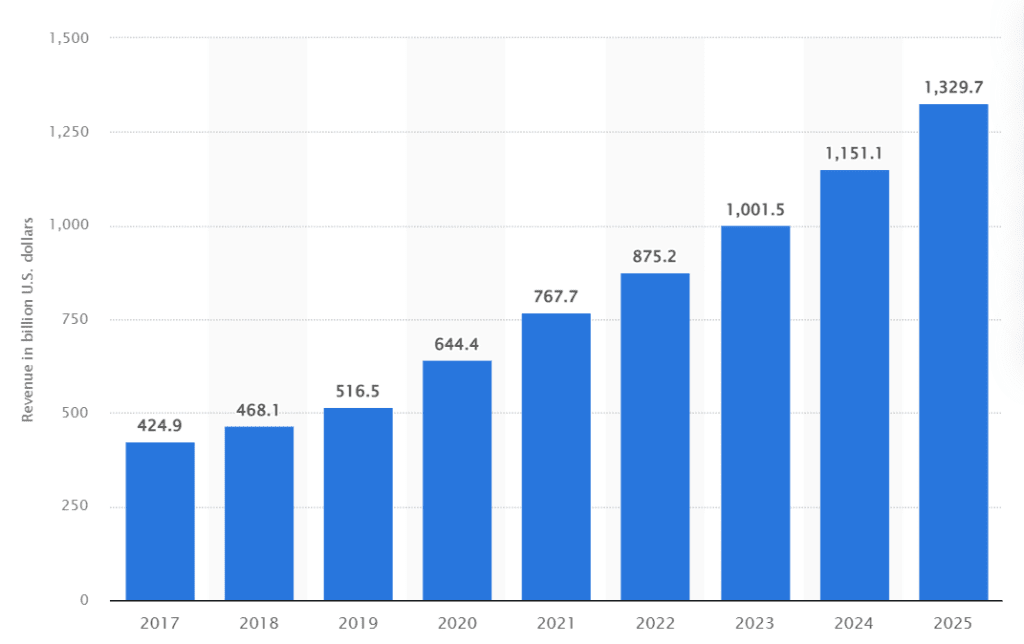 Image via Statista
As brick-and-mortar stores gradually lose their dominance, the digital marketplace is flourishing. E-commerce brands, both large and small, are rapidly emerging and establishing themselves in this ever-expanding landscape.
For any e-commerce business aiming to achieve success, the challenges and competitiveness are evident. To outshine the fierce competition, aggressive e-commerce marketing strategies such as digital advertising, content marketing, and social media marketing become essential.
In this post, I'll share 8 crucial factors that demand your attention to ensure the success and sustainable growth of your e-commerce business. Let's dive in.
8 Key Factors for Ecommerce Business Success in 2023
The future of e-commerce holds great promise, and early adopters among small businesses stand to reap significant benefits. But what does it take to achieve this success?
Here are the 8 crucial success factors for e-commerce businesses.
1. Define and Target a Niche Audience
The foundation of e-commerce success rests upon a deep understanding of your target audience. Instead of casting a wide net in search of customers, focus on engaging a niche audience that aligns with your small business's offerings. To achieve this, it's essential to research and identify a specific audience that resonates with your products or services. Investigate their pain points, interests, and preferences using SEO tools like SEMrush or Ahrefs to gather valuable insights.
The objective is to make your product unique and tailor your marketing approach to a relevant audience likely to convert into customers. This strategy can enhance customer loyalty and foster repeat business, providing the key to e-commerce success.
2. Prioritise a Mobile-First Approach
The COVID-19 pandemic accelerated the shift toward e-commerce and led to the emergence of m-commerce (mobile commerce). Insider Intelligence predicts that, by 2025, m-commerce sales will constitute 44.2% of total e-commerce sales in the US.
The success of your e-commerce business hinges on the mobile-friendliness of your website. Ensuring your online store is optimised for mobile devices is essential for providing a seamless shopping experience to customers on the move.
To achieve this, start running Google's Mobile-Friendly Test and consider developing a progressive web application (PWA) for your e-commerce platform. A responsive web design for your site can significantly boost sales and pave the way for e-commerce success.
3. Optimise Your Distribution Channels
Your target audience frequents various online channels, and to ensure your products gain visibility, it's imperative to select the right distribution channels.
If your e-commerce model primarily revolves around your website, consider expanding your reach by exploring alternative sales channels. Options abound, such as Amazon, eBay, social media platforms, and affiliate marketing. To manage your sales processes efficiently across these channels, embrace the power of sales CRM tools. These tools seamlessly integrate your diverse sales channels, enhancing the overall effectiveness of your e-commerce operations.
Conduct in-depth research to determine which of these channels are favoured by your target customers. By appealingly showcasing your products, you can elevate your e-commerce sales. This digital marketing strategy plays a pivotal role in contributing to the success of your e-commerce business.
4. Craft Compelling and Unique Content
To ensure your e-commerce brand distinguishes itself in a crowded online marketplace, invest in producing high-quality and diverse content.
In today's digital landscape, internet users are inundated with content, necessitating innovative approaches to capture their attention.
Notably, video content has emerged as a dominant format, delivering exceptional results. You can leverage tools like Premiere Pro Presets to create distinctive and engaging videos that set you apart.
Take a data-driven approach by gathering insights from customer data analysis, observing your competitors, and learning from previous digital marketing campaigns. Use these insights to refine your content marketing strategy, ensuring it is laser-focused and tailored to the unique needs of your small business.
5. Maintain and Refine Your Email Marketing Lists
Email marketing serves as a versatile tool for achieving various marketing objectives, from lead generation and nurturing to customer relationship building, satisfaction, and e-commerce sales acceleration.
To harness the full potential of email marketing, a strategic approach to managing your email lists is essential. Sending out a thousand emails holds little value when only a fraction of the recipients align with your target audience.
Thus, segmenting and consistently updating your email lists plays a pivotal role in ensuring the success of your e-commerce business. Effective email list management involves seeking recipient feedback regarding the content and information they prefer to receive.
Through analysing this feedback, you can make informed and strategic decisions, further bolstering your e-commerce business's success.
6. Prioritise Delivering Exceptional Shopping Experiences
In the contemporary business landscape, customer expectations regarding the shopping experience have reached new heights. As a result, your e-commerce business must prioritise customer satisfaction by delivering unparalleled shopping experiences.
Personalised communication serves as a potent game-changer, encompassing product recommendations, abandoned cart reminders, and introductions to your latest offerings. The creation of user story maps can enhance the effectiveness of your personalisation efforts.
From the moment customers land on your website to the point of making a purchase, your goal is to craft a seamless customer experience. Incorporating an AI-powered chatbot into your website can take customer service to the next level.
To foster customer satisfaction and happiness, consider offering special deals and discounts. These strategic moves are sure to elevate the success of your e-commerce business.
Social media platforms offer a potent avenue for creating brand awareness, extending customer service, and generating leads for your e-commerce business. Leading platforms like Facebook, Instagram, Pinterest, and YouTube are the darlings of marketers, enabling them to connect with niche audiences and drive website traffic.
However, it's essential to recognise that the social media arena is highly competitive. Achieving substantial success in this space requires leveraging social media analytics to craft digital marketing campaigns that not only drive engagement but also populate your sales funnel with high-quality leads.
E-commerce brands should also capitalise on the growing trend of social selling. Techniques such as shoppable posts, exemplified by Macy's, enable Facebook followers to make instant purchases. When executed strategically, selling on social media can serve as a lucrative sales channel for your business.
8. Embrace E-commerce Tools
The success of your e-commerce business need not be a cumbersome struggle. An array of advanced e-commerce tools is available to streamline and optimise your efforts.
Consider implementing essential tools, including:
Website tools: designing, setting up, and managing your e-commerce site.
E-commerce marketing tools: to facilitate campaign strategizing and execution.
Competitor analysis tools: to gain insights into your market positioning and enhance your strategies.
Analytics tools: to assess the performance of your digital marketing campaigns.
Business tools: to manage daily operations, finances, logistics, inventory, and customer service.
Choose the tools that align with your business objectives and can significantly enhance the success of your e-commerce venture.
Final Thoughts
In conclusion, these eight key factors are essential for ensuring the success of your e-commerce business. While achieving success requires hard work and dedication, the benefits are worth the effort.
To fuel the growth of your business, it's highly recommended to develop a robust e-commerce marketing strategy that prioritises customer experience and brand identity. Implement these strategies to stay ahead of the competition and establish a thriving e-commerce business. Your dedication and investment will pay off as you reap the rewards of success in e-commerce.