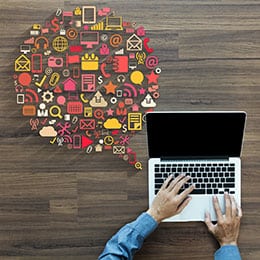 Good SEO (search engine optimisation) practitioners are aware of one undeniable truth: They are never finished learning.
In the blog this week, we've included some tips to help you understand what SEO is, why it's important and how to get started.
SEO | The Basics
SEO is the practice that helps your website appear on the first page of Google – this makes your business easy to find on the internet.
SEO is a moving target because search engines often change the algorithms they use to rank websites.
Here are four important areas to consider:
Website Structure
Your website should have pages that cover the basics like an overview or welcome, 'about us', contact us, what you can do for your customers and why they need you. Once you have those basics in place, you can expand your site over time.
Use analytics to discover the most popular landing pages on your site – the pages most visitors come to directly. Then you can make sure those pages are full of rich content that encourages sales activity.
Content
Search engines love good content. If you can write about your business in a way that's interesting, helpful and informative then you'll be rewarded with better search rankings – and better traffic. If you can't do that yourself, pay someone who can. It's worth the investment.
Keywords
Gone are the days when businesses could get to the top of search results simply by packing their web pages full of keywords. These days, if you try 'keyword stuffing' on your site it will probably be penalised or removed from listings altogether.
Keywords do still have their places. Use them in page meta-tags, as category tags and in page titles. But use them sparingly and sensibly and choose ones that are relevant to your business. Services such as Google's AdWords Keyword Planner and Google Trends can help you.
Accessibility
Make sure your site can be viewed on different devices and browsers. Check it on a smartphone, a laptop and a tablet, and any browsers you can find. Does it work well on all of them? If not, get your web developer to fix it so that it does. Your website should be accessible to everyone, whatever device they're using.
If you do SEO properly, the majority of your web traffic will find your site via a search engine, like Google. That means sales leads for your business, so it's important to get it right.
To find out more about how you can improve your online presence, contact SMP for a fully supported Digital Performance Report.